Cadiz Tuna Fiestas
Tuck into tuna tapas at 4 gastro gigs on the Costa de la Luz
The definitive guide to the Cadiz tuna festivals of Zahara de los Atunes, Barbate, Conil & Tarifa
You haven't tasted tuna until you've tried almadraba-caught Atlantic bluefin whose silvery shoals can be seen off the coast of Cadiz Province after May's first full moon.
Their arrival is a cause for celebration in the white villages of Tarifa, Conil, Barbate and Zahara de los Atunes - the last towns in Spain where these ocean giants are still caught by almadraba trapnets the sustainable Phoenician way.
Japanese ships queue up in the bay to buy their plump and juicy atun de almadraba which ends up in the sushis and sashimis of the top chefs in the world.
But in May and June the best cuts are reserved for a gastro tapas fest in each of the four villages, and everyone's invited. Pick up your free route map from the tourist office and join in this great gourmet gig!
A Foodie Fiesta to the Power of Four
Extraordinary innovation is the principal ingredient of the Cadiz Tuna Festivals. Local restaurants outdo each other to win the prize for the best dish and all the latest culinary techniques are on show.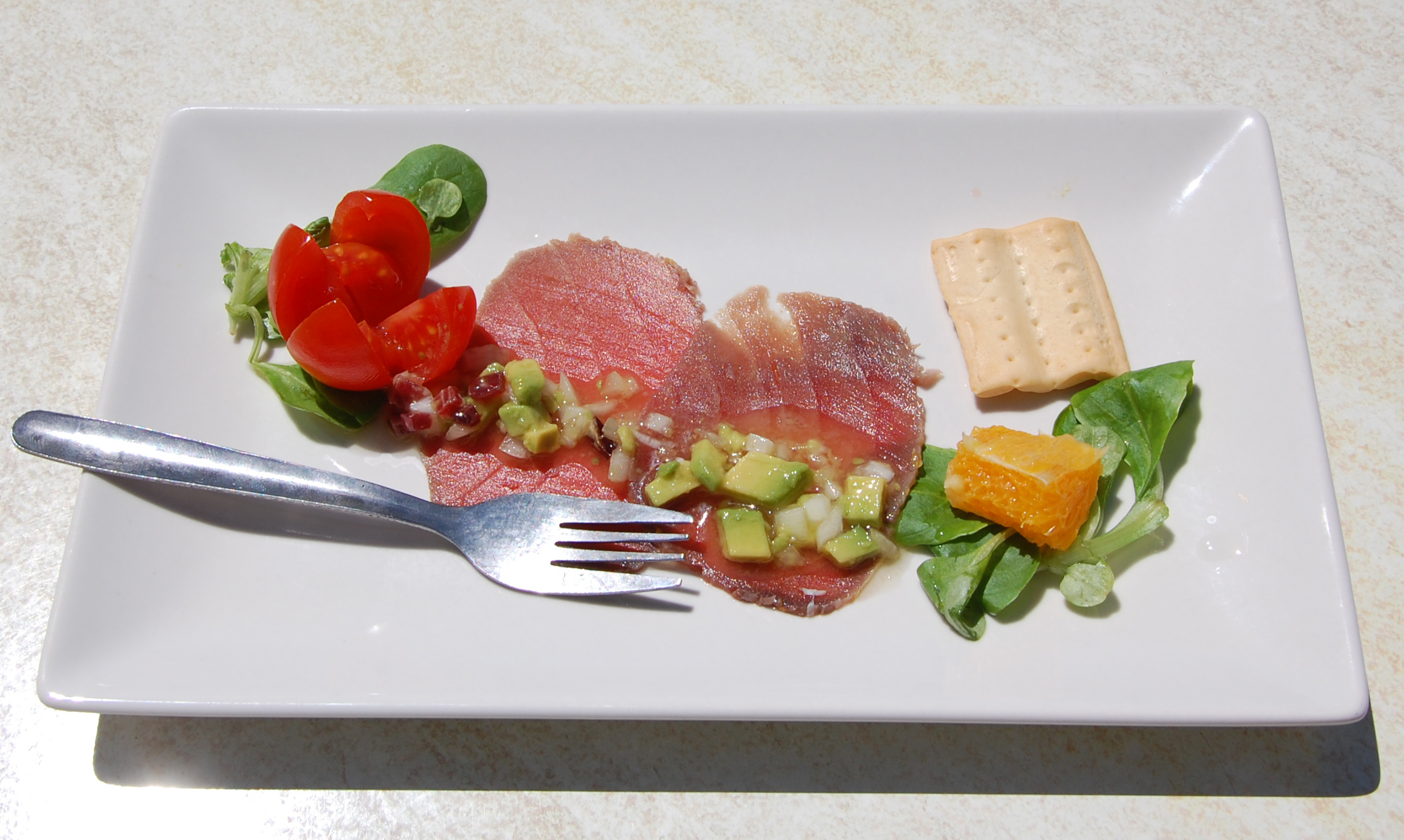 Bluefin burgers, tuna 'toffees', bite-sized pizzas in miniature boxes, Gin Tunic (tuna as a drink) and even tuna-flavoured ice cream have been star turns at festivals past. An orange with a tiny leaf so lifelike some people thought it had fallen off one of the local trees turned out to be tuna tartare, cunningly disguised in a sphere of mandarin gelatine.
With most tapa priced under €4 including a beer, soft drink or wine it's a no-brainer for fish fanciers! For perfection, try it with a chilled manzanilla sherry wine from Sanlucar de Barrameda, just up the coast.
Try it all and you could win a valuable prize, like a weekend at a hotel! With your route map you get a tapassporte which you need to get stamped everywhere you eat to enter the draw.
Book an almadraba boat trip
The levantá (raising of the trapnets) is a thrilling spectacle if you're not squeamish
The tuna festivals have generated such growing interest in the art of the almadraba that many visitors want a closer look.
You may have spotted one of these large floating structures which appear off the Cádiz coast in late March. Often mistaken for fish farms, they're quite the opposite - complex labyrinths of netting several kilometres long and 30 metres deep, that guide the tuna into a large central trap.
Several levantás will be held between April and June, dependent on wind, tides and sea conditions and decided by the almadraba's 'captain'. At the appointed time, the fishermen surround the circular trap and start hauling in the nets. As the boats move closer together, the trap becomes a seething cauldron of frenzied fish. Almadraba is Arabic for 'place of fighting' and the name's well-justified.
Cranes and winches are used to land the fish on the boats. There are strict quotas limiting the catch and with this sustainable method of fishing, only prime specimens are taken while immature fish can escape through the mesh and live to spawn another day.
Ignacio Soto of nautical tours specialist Nature Tarifa organises boat excursions to witness this incredible spectacle. www.naturetarifa.com
Cadiz Tuna Festival Calendar 2019
📆 May 3-June 3 XXIIl Ruta del Atún, Conil www.turismo.conil.org
📆 May 14-19 Xl Ruta del Atún, Zahara de los Atunes www.rutadelatun.com
📆 May 1-5 XIl Semana Gatronómica del Atún, Barbate www.larutadelatun.com
📆 June 9-12 VIl Ruta de Atún, Tarifa www.aytotarifa.com
Tuna Titbits
Sideshows
Food is only part of the fun. If high drama is your bag, there's plenty of it with tuna tastings, sherry pairings, show cooking, street parades, polo matches and ronqueos - theatrical demonstrations of tuna filleting named after the 'snoring' sound the knife makes on the flesh.
Obese Tuna
The tuna are in peak condition when they pass through the Gibraltar Strait en route to their Mediterranean spawning grounds. The biggest can weigh 400 kilos. They've grown fatty overcoats while wintering in the depths of the Atlantic, which give the flesh its rich juiciness. You'll never want to eat tinned tuna again.
Fin-to-tail dining
Hardly any goes to waste which is why the Spanish have another name for it: el cerdo del mar (pig of the sea). The ventresca (stomach) is sold in steaks at around €40 per kilo, the morillo (a muscle in the head) costs more and the roe sells for over €80 per kilo. Even huevos de leche are relished, though they aren't for the faint-hearted (being tuna sperm).
On the tourist map
"For most Spanish towns, May is the month for communions and weddings but we're only a small fishing village and don't get many," says restaurateur Gaspar Castro, mastermind of the fiesta in Zahara de los Atunes. "But it's one of the best months to eat fresh tuna, caught in our unique way. We've been making a party of it since 2009 and it's really paying off."
You can visit this tuna tapa tsar at his welcoming family Restaurant Gaspar where his sister is responsible for the tasty grub.
Book Early
During festival time there are nearly as many fish aficionados on land as there are tuna in the sea and the polulations of the four almadraba towns doubles or triples. Last year 36 chefs sold 79,241 tapas in Zahara de los Atunes, a tiny maritime pueblo of 1,300 residents that seems to have more restaurants than locals to eat in them.
Stay in Zahara de Los Atunes
The bijou fishing village Zahara and its sister, the peachy beach resort of Atlanterra (still a best-kept Spanish secret), are great bases for doing all four festivals.
You can choose to stay in the original white village where most of the shops and restaurants are clustered or along the 2km wild beachfront strip running to exclusive Atlanterra, with its boho chic hotels and palatial villa rentals overlooking Andalucia's most stunning beach.
Stylish Stays in Zahara de los Atunes
Gran Sol Hotel, Zahara You couldn't ask for a more fantastic location, right on the beach and in the centre of town.
Hotel Antonio, Atlanterra A Spanish family favourite, the restaurant's dramatic picture window provides ocean views whatever the weather.
El Cortijo de Zahara, Atlanterra Laid-back luxury complete with decadent Balinese daybeds ranged around a sparkling pool, this chic boutique hotel ramps up the romance.
El Varadero, Atlanterra Chilled and trendy, tropical gardens with Polynesian wood carvings lead to a gorgeous beach. Vibrant Restaurant Vambú is a hot favourite with the surfing set.
How to get to Zahara
Driving distances from Zahara de los Atunes:
Cadiz city – 77km

Sevilla – 170km

Gibraltar – 87km
Nearby
Vejer Best-kept white village – 22 km

Jerez World sherry capital – 84km