Gibraltar Bucket List
12 Reasons Gibraltar Rocks
1. A Walk in the Sky
Straddling a 50-metre gorge above town, shrinking cruise ships in the Strait to the size of bath tub toys, the Windsor Suspension Bridge competes with the Skywalk and the Cable Car for the title of top aerial attraction. Strung between the footpath through the Upper Rock Nature Reserve, it's a high-wire act personally recommended by Gibraltar's Chief Minister, Fabian Picardo, who says the slight wobble only adds to the thrill of the experience!
2. Runway Thrills
Voted 2017's fourth Most Scenic Airport Landing in the world by jet charter company Flyby, the rock at the crossroads of Africa and Europe provides high-flying thrills as you drop out of the clouds onto a sliver of tarmac lapped by ocean at both ends. But is it a runway, a road or a pedestrian crossing? The world's fifth Most Extreme Airport shares its landing strip with cars and people, making every inbound and outbound flight a traffic-stopping spectacle!
3. The Secret Menagerie
Monkeys aren't the only animal act in town. Patagonian parrots, lemurs from Madagascar, miniature tamarinds from Colombia and a pair of utterly charming Asian otters share the secret sanctuary known as Alameda Wildlife Conservation Park. Hidden away inside Gibraltar's magnificent Botanical Gardens, this bijou biopark cares for exotic pets confiscated by Customs in habitats emulating their homelands and works to protect endangered species. Read review
4. The Garden Theatre
The Botanical Gardens hides another 'wow factor' - the Alameda Open Air Theatre which has been 'entertaining the troops', off and on, for nearly 50 years. The waterfall and Koi carp-filled lake – the largest area of open fresh water on the Rock – makes a magical setting for concerts, dinner dances, conferences and variety shows and has also hosted the annual Miss Gibraltar Beauty Pageant.
5. Colonial Afternoon Tea
You'll get a great British cuppa wherever you go in Gibraltar but why not splurge on the full Edwardian works at the iconic Rock Hotel? A long-cherished tradition since colonial times, think silver cake stands, finger sandwiches and scones with jam and clotted cream. Enjoy it at its authentic best on the timeless Wisteria Terrace overlooking the bay, as served to Sir Winston Churchill and a Who's Who of famous personalities since the 1930s.
6. Med Steps Challenge
The military stone staircase to the Rock summit used to be Gibraltar's best-kept secret but now everyone is clamouring to join this 426-Metre High Club. The 1,400 metre hike through nature reserve is an exciting aerobic workout if you're fit, with a head for heights. Race to the top in under 19 minutes to beat the record or tackle it over a more leisurely one-to-two hours to admire the scenery and get your breath back. Counting the steps is another challenge. The common consensus is over 600!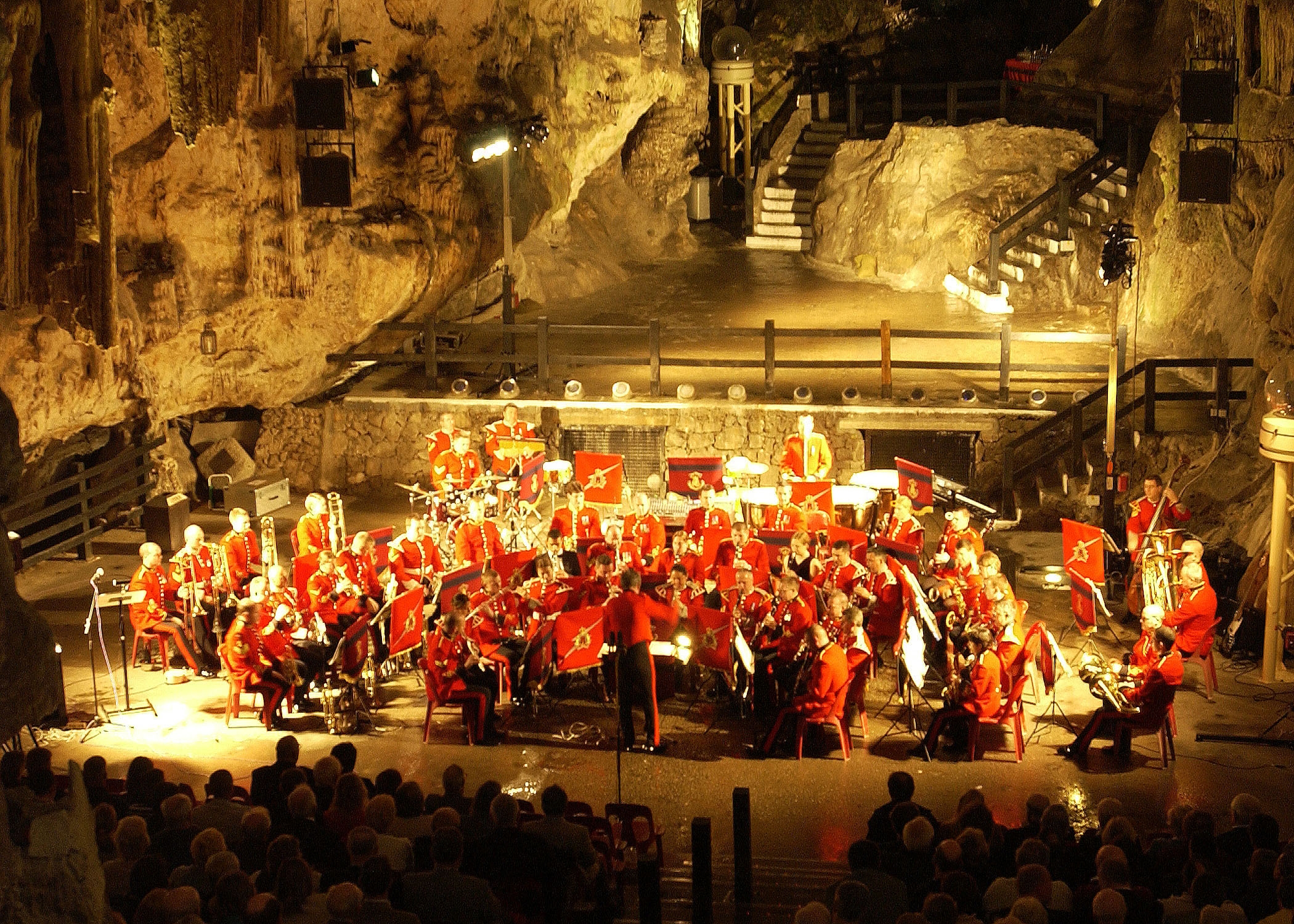 7. Concerts in the Cave
Gibraltar's most awesome concert hall took Mother Nature 350 million years to build and she must have been inspired by Gaudi. Dripping with giant stalactites suspended from its soaring cathedral ceiling, St. Michael's Cave is a wonder to behold but wait until you've experienced the incredible acoustics of this magical limestone auditorium. Jazz and New World Music concerts, theatre, ballet ... it's a prehistoric platform for subterranean spectaculars throughout the year.
8. Little Italy Beach
Just one cornetto in Catalan Bay, Gibraltar's favourite little Italian playa, and you'll be singing the song! Tucked into the Rock's east face, this genuine Genoese fishing village with a church dedicated to an Italian saint oozes Riviera charm. Washing flaps on lines strung between a crescent of Neapolitan ice cream-coloured villas with Italian names, and some old salts still put to sea in Genoese bucetas to supply the beach bars with their catch of the day. Anyone for octopus?
9. Sunset Monkey Safari
Europe's last free-ranging wild monkeys are notoriously cheeky but now you can learn to talk back to them on a glorious sunset safari following their foraging trail through the Upper Rock Nature Reserve. Lead by Gibraltar primatologist Brian Gomila, this David Attenborough-style tour allows you to study the personalities and language of Barbary macaques in their own environment, primate to primate. Yes, humans are primates too!
10. Prehistoric Perspectives
Epic views across the Strait to Gibraltar's twin Pillar of Hercules in Morocco make Europa Point an essential pilgrimage. But it's worth the half-kilometre detour east of the Rock's southerly tip to visit its UNESCO World Heritage attraction: an ancient cave system that was the last refuge of Neanderthals in Europe. From a viewing platform overlooking their wave-lashed dwellings you can see how our ancestors lived when ocean levels were 100 metres lower and their 'front garden' was a Mediterranean Serengeti prowled by leopards and hyenas.
11. National Day
On September 10 the Rock is engulfed in a red and white tsunami of flag-flying patriotism as the locals celebrate British sovereignty with the mother of all street parties. It's a one-day licence to sing their National Anthem from the rooftops and all the way to the Spanish border and everyone's welcome. Read review
12. The photogenic cemetery
Cemeteries can be depressing but not this one! The magnificent marble mausoleums owned by some of Gibraltar's wealthiest families make the Elgin Marbles look tame. More than 750 Commonwealth soldiers from two World Wars are also buried here. And you can get great shots of planes taking off and landing as it's right next to the airport runway.