Quick Guide to Tangier
How to do the city in a day and wish you'd booked for the weekend
A mere 60-minute ferry hop across the Gibraltar Strait from Tarifa in Spain, the mystical north African city of Tangier is another world – crowded, colourful and exhausting. But do it right and you'll be seduced by the charms of a destination that was party central for the arty set during the 1920s-50s, when Tangier's International Zone was ruled by nine countries and Moroccans needed a passport to get in!
Each culture has left its mark on the architecture, language and cuisine. Don't leave town without tasting the fabuleux French-Moroccan pastries.
Guided Tour or DIY?
If it's your first tango in Tangier and you've only got one day to see it, a guided half or full-day excursion is a no-brainer. It's the most hassle-free introduction to the delights of the white city where wifi is limited, street names are in Arabic and the medina is a maze.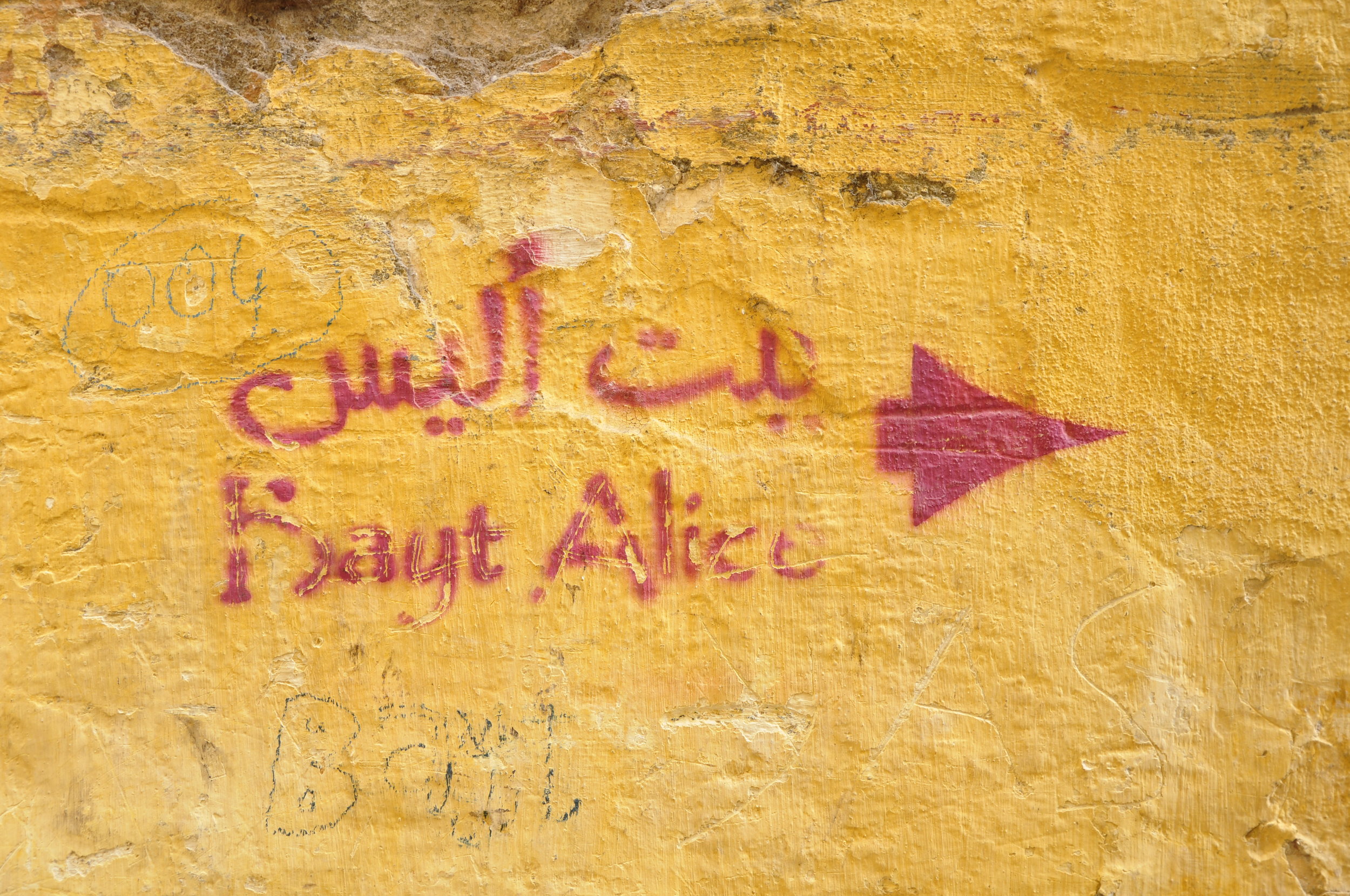 Then you definitely need a guide
A coach package tour from your hotel offers the bonus of door-to-door transport, with everything organised for you. Simply sit back and let someone else do the work.
If you can get yourself to the ferry port at Tarifa there are two other interesting options. In both cases you'll be met in Tangier by a savvy guide who will fast-track you through the mayhem of the port where half the working population are out touting guiding services.
Tangier on a Budget
It's tough to find anything to beat the package prices offered by FRS Ferries: a full-day guided tour, lunch in the medina, return ferry and travel insurance, all for €66 per person. That's not much more than the cost of the ferry tickets alone.
Ride a dromedary on Tangier's seamless beach
You'll get a Panoramic Tour of the city and coast in air-conditioned wheels, a beach camel ride and a guided walking tour through the medina, kasbah and souks. It does mean you could be in a group of 30+ and there's no bunking off from the set itinerary. But at that price, who's arguing?
Tangier with a Private Guide
If you don't mind paying à la carte for your ferry and lunch, this is a much more personal and flexible way to see Tangier. A private guide can take you anywhere you want to go and, as euros go a lot further in Morocco, it's cheaper than you think - even just for the two of you.
You can surf the internet to compare prices and find accredited tourist board guides or we'd be delighted to recommend the best. He has lead the Authors Tour for best-selling writers attending the Gibraltar Literary Festival and his passion for his native city shines through. Send us an email request and we'll put you in touch.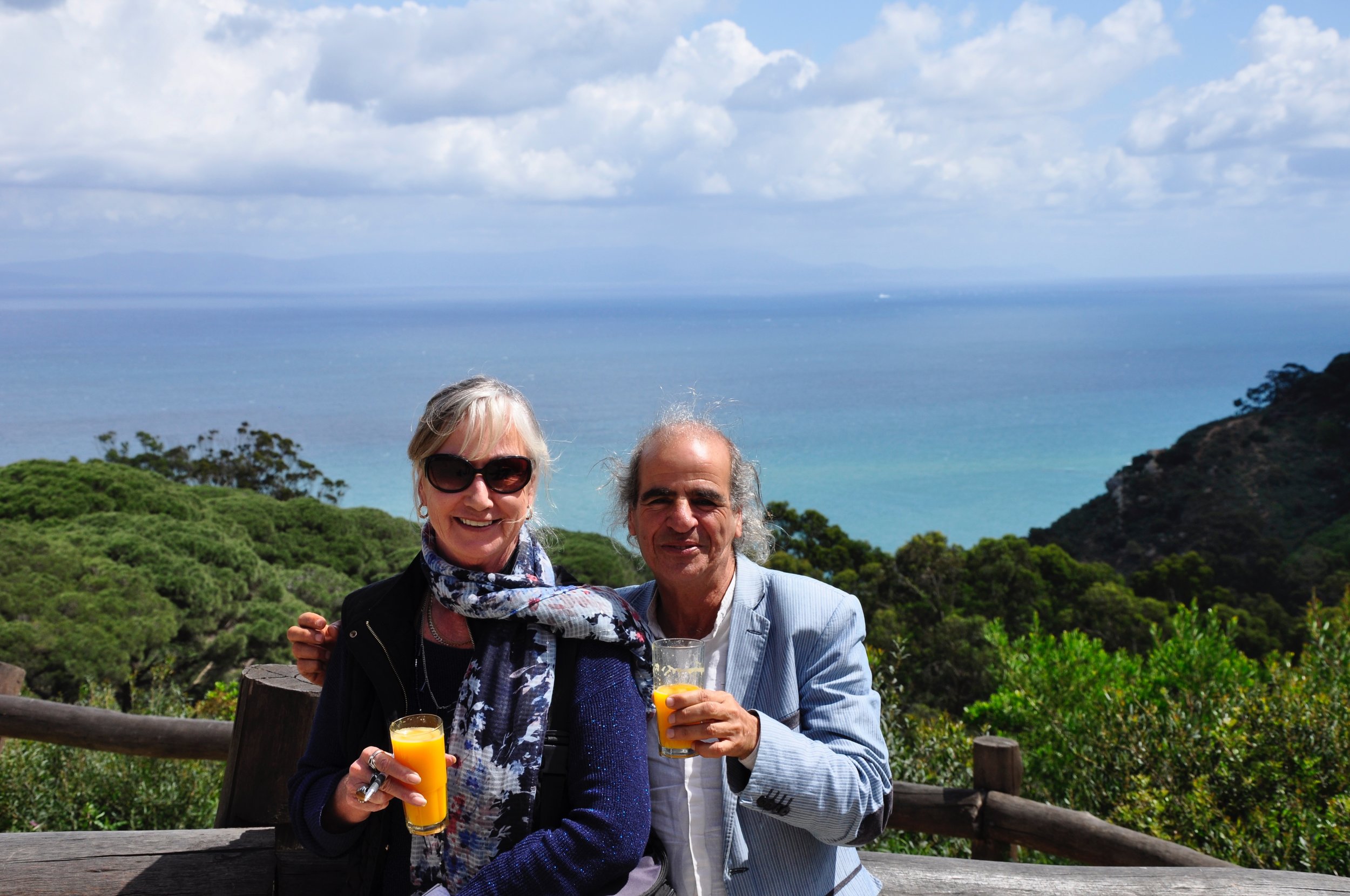 He introduced us to freshly-squeezed orange juice served from a truck in a park with a Sean Connery connection
Tangier Highlights
The best things to see in 5 City Zones.
Most tour packages squeeze it all into a day but if you're going privately, you can pick and choose. Try 3 for relaxing, 4 for a happy medium, 5 for full-on. The panoramic tour will leave you less time for lunch or shopping ... unless you're planning to stay over which is an excellent idea. Two nights, if you can manage it, is the perfect time frame.
Check out the geography with this bespoke Google Map and play around with it to suit yourself. Or cut straight to the chase below. (Flip your phone sideways to see slideshow captions.)
1. THE MEDINA
A psychedelic trip through spice-scented souks with cubicle shops smaller than your downstairs loo. Haggle for camel leather bags and handmade hajouj lutes as played by Gnawa tribesmen, Jagger, Hendrix and Led Zepplin. Give yourself up to the colour and chaos.
Grand Socco
All the medina's crooked streets converge on this busy cafe-lined square, buzzing with traffic. If you get lost, the Grand Mosque's towering minaret is a reference point.
Petit Socco
Get inspiration for your novel at the Tingis or Central cafes in the square where Tennessee Williams, Paul Bowles and other members of Tangier's literati met up for a chinwag.
Souk Shopping
It's not so much retail therapy as street theatre. Wander through gaudy bazaars ankle-deep in live chickens and opportunist cats, buy fresh saffron, barter for jewellery, get a henna tattoo or pop into an apothecary for argan oil, herbal viagra and other bespoke 'magic potions'. Herbalist Zac comes from the Rif mountains where he swears, "No one goes to hospital, there's a plant to treat everything."
American Legation Museum
An elegant mansion tucked into the medina walls, gifted to the US by the Sultan. Check out Cecil Beaton's medina watercolours, Malcolm Forbes' collection of toy soldiers and the Paul Bowles Room for mementos of Tangier's literary legacy.
The luminous courtyard of the Palais Zahia hotel off Petit Socco is perfect for lunch or mint tea and sticky pastries and every authentic dish is prepared in-house.
2. THE KASBAH
The walled citadel at the medina's pinnacle hides character riads and restaurants offering menu du jour. Think spicy harira soup, chicken and almond pastelas and syrupy pastries.
Flip your phone sideways to see the captions
Kasbah Museum
Housed in the old Sultan's Palace, highlights are the mosaic from the Roman city of Volubilis and a stroll through the royal gardens. Look out for the house numbered '0' opposite – Dar Zero was 17th century London diarist Samuel Pepy's old pad. Beat Generation' icon William Burroughs owned the dar next door.
Cafe Baba
It doesn't look like anyplace you'd catch Kofi Anan or the King of Sweden drinking mint tea but their photographs on the sky blue paint-peeling walls don't lie. Cafe Baba has hosted a stellar cast of celebs including Rolling Stone Keith Richards. Ask the management about Woolworths heiress Barbara Hutton's wild rooftop parties next door, and how the kasbah gates had to be widened to accommodate her green Rolls Royce.
3. THE MARSHAN QUARTER
The kasbah is an uphill hike but there are two reasons to go the extra 12-minute distance from the top gate into the neighbourhood known as the Balcony of Tangier.
Iconic Cafe Hafa, styled on an amphitheatre, has been serving up mint tea and breathtaking views to the rich and famous since 1921. Bag a top tier above the crashing waves and mind the seagulls!
Zen out on Gibraltar Strait views from a Phoenician Necropolis. The coffin-shaped hollows in the rock provide the perfect perch.
4. VILLE NOUVELLE
For a different view of Tangier, the New Town offers no-haggle shopping western style on a boulevard showcasing 19th and 20th century architecture.
Flip your phone sideways to see the captions
Terrasse des Paresseux
Join the throng leaning on the cannons and lounging on the walls of the Idlers Terrace for spellbinding Strait views. The shoe shine boys and nut sellers are far from idle.
Grand Hotel Villa de France
Look in on Matisse's favourite hotel. He painted Window at Tangier from Room 35, a shrine you can actually stay in. This five-star licensed oasis serving alcohol is the perfect antidote to the hurly-burly of the adjacent Medina...
Mendoubia Gardens
... or simply take a pause in this lush park opposite Grand Socco and watch the action from the shade of its 800-year-old banyan tree.
St Andrews Church
An English church in a country of mosques, the cemetery is a homage to British and Commonwealth soldiers who died fighting in North Africa. If the caretaker's there he will spill all kinds of interesting beans.
The Berber Market
Women of the Riff in wide-brimmed hats and striped shawls sell their fresh mountain produce around the walls of St Andrews every Thursday and Sunday morning.
Gran Café de Paris
Commanding a prime people-watching position on Place de France, hence its appeal to WW2 spies, literary icons and Matt Damon in The Bourne Ultimatum, the best seats have seen better days and they're usually bagged by the local male pensioners' club.
5. tangier panorama
An air-conditioned drive along the coast via the Mountain of Seven Palaces to see if the King of Morocco's at home, or his neighbour the Saudi Sheik. If not, they could be next door at Tangier's sumptuous Le Mirage Hotel. Why not pop in for a coffee? Set aside 2-3 hours for this hugely scenic tour.
PANORAMIC TOUR IN PICTURES
Flip your phone sideways to see captions
If you're staying in Gibraltar you'll be ticking off THREE countries in ONE day. Sail from Spain, lunch in Morocco and be back on the Rock in time for supper!
Or if that's too exhausting ...
Why not stay over and do it all?