Secret Beaches of Andalucia
Find a castaway beach with a heavenly hotel to match
They hide across flamingo-flecked salt flats, curve around ramshackle white fishing villages and peep between the pine forests of Doñana National Park. Some are so rural, you could end up sharing your spot with the local retinto cattle which come to graze on the dune grass and cool their heels at the water's edge.
The beaches of the Costa de la Luz stretch from Spain's southerly tip on the Gibraltar Strait to its border with Portugal in a 200-kilometre ribbon of rocky coves and sandy bays. Atlantic currents and estuary rivers have sculpted the shoreline into Caribbean-copy beaches and sandbars, the water is Perrier-clear and towering dunes are often the only high rises in sight.
Out-of-town beaches don't come with sunbeds and beach brollies à la Costa del Sol and the most pristine playas play hard to get along dusty tracks where you have to park up and walk, lugging everything with you, including your rubbish on the return trip. But with a great hotel base nearby you can enjoy their wild beauty and still be within shouting distance of a shower and a chilled mojito.
Follow up with a seafood feast of white Sanlucar prawns, bluefin tuna, and golden sherries from Jerez, served beside the Atlantic surf, for a peachy beach weekend.
Punta Paloma
The road to this secluded bay slices through Sahara-sized dunes of white sand, giving the impression of driving through a snowscape. Park here and descend the dune with all your beach equipment.
Wilderness Factor: Around the headland from Valdevaqueros, one of Tarifa's key kitesurfing beaches, it's a 10-minute detour off the N340 at km 74. There's a campsite nearby with a Red Cross station.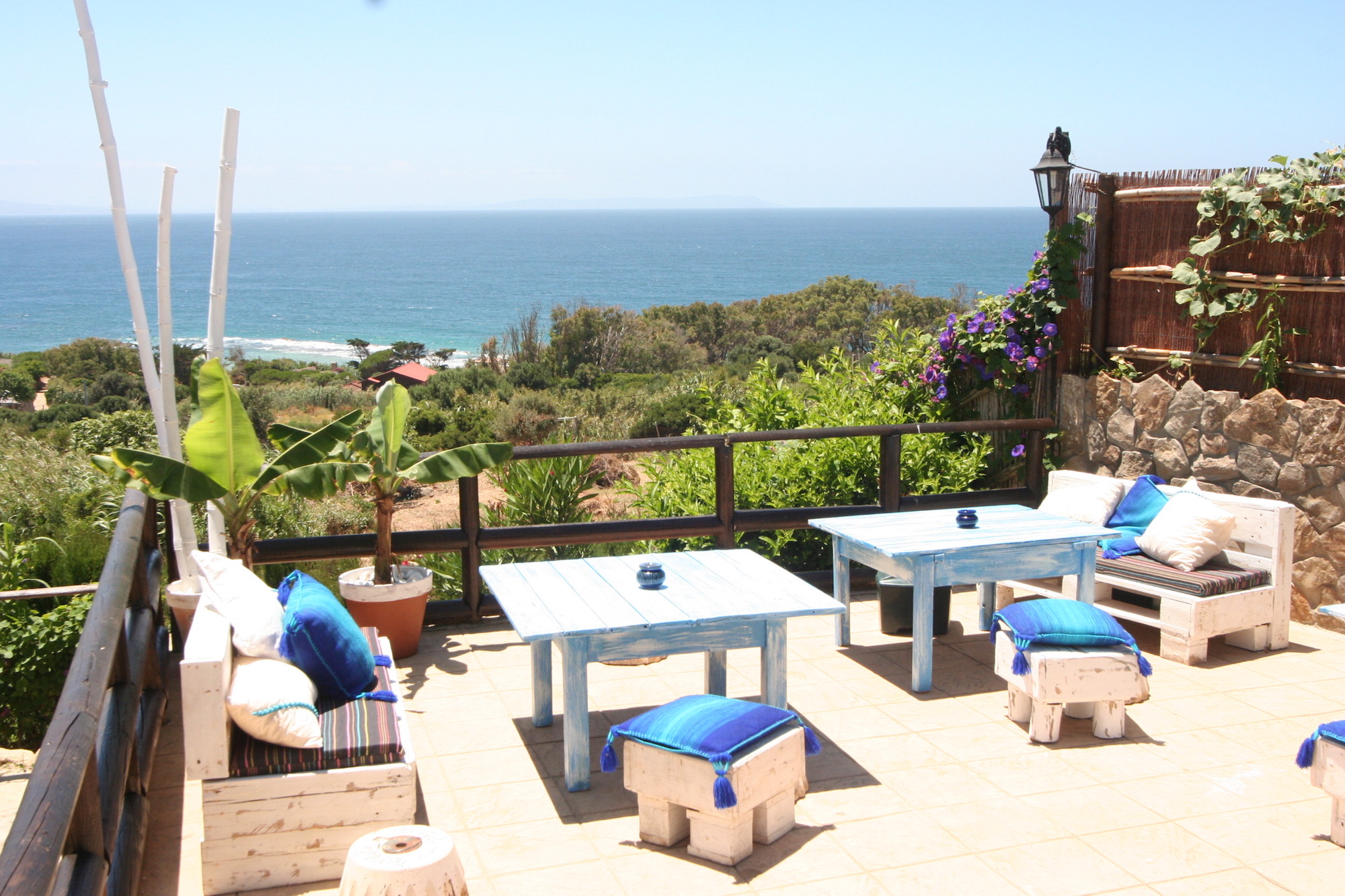 A short drive through an old military zone leads you to ivy-clad El Mirlo where you can grab a bite and lap up views to Morocco.
Europe's surfing capital, the fortress town of Tarifa has heaps of funky style and you can hop on a fast ferry from the port to Tangier.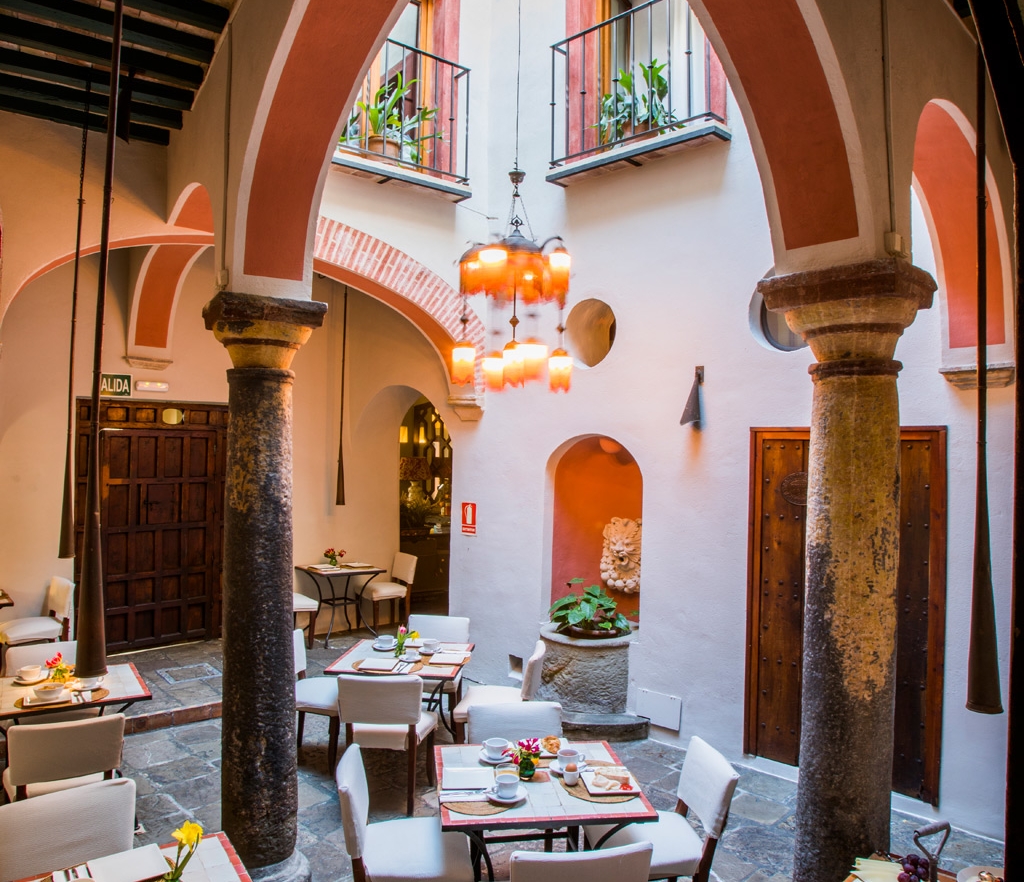 Hiding in a restored 17th century building in the narrow streets of Tarifa's old quarter, stylish Posada La Sacristía's cool courtyard milks the Moroccan vibe.
A sweeping crescent of white powder sand rimmed by 50 shades of blue water edging one of the most complete Roman towns in Spain. There's wow factor in spades, buckets of sangria too, served up with fresh seafood at casual beachfront chiringuitos. The Bolonia beach walk is an energising 3.8 km each way as your Fitbit will confirm.
Wilderness Factor: Found at the top of every Worlds Best Beach list, this beauty queen is no longer a secret but there's room for all and the off-road setting, a 10-minute detour through the Strait Natural Park, helps to keep the crowds down.
Climb the National Monument
Bolonia's 30-metre sand dune grows taller every year. The surplus provides less well-endowed resorts with their annual beach top-up.
Baelo Claudia Visitor's Centre is FREE to EU citizens with ID. Stroll between Doric columns and play with interactive screens to discover how they made the BC equivalent of anchovy essence.
Head for the cluster of white brollies between the dune and the ruins. Crispy tortillitas de Camerones (shrimp fritters) and chilled gazpacho are highlights.

We love the Hurricane Hotel for its tropical gardens and boho chic vibe. The chiringuito does a great lunchtime salad buffet with front row seats over the windsurfing action.
Playa de los Alemanes is a semi-wild strip at the eastern end of Zahara de los Atunes' grassy shoreline. The beach curves around the posh urbanisation where General Franco's German cronies once had summer homes and many wealthy Spaniards still do.
Wilderness Factor: If semi-wild isn't secluded enough and you're up to a hike around the headland, make for Camarinal lighthouse and around the rocks to the virgin sands of El Cañuela.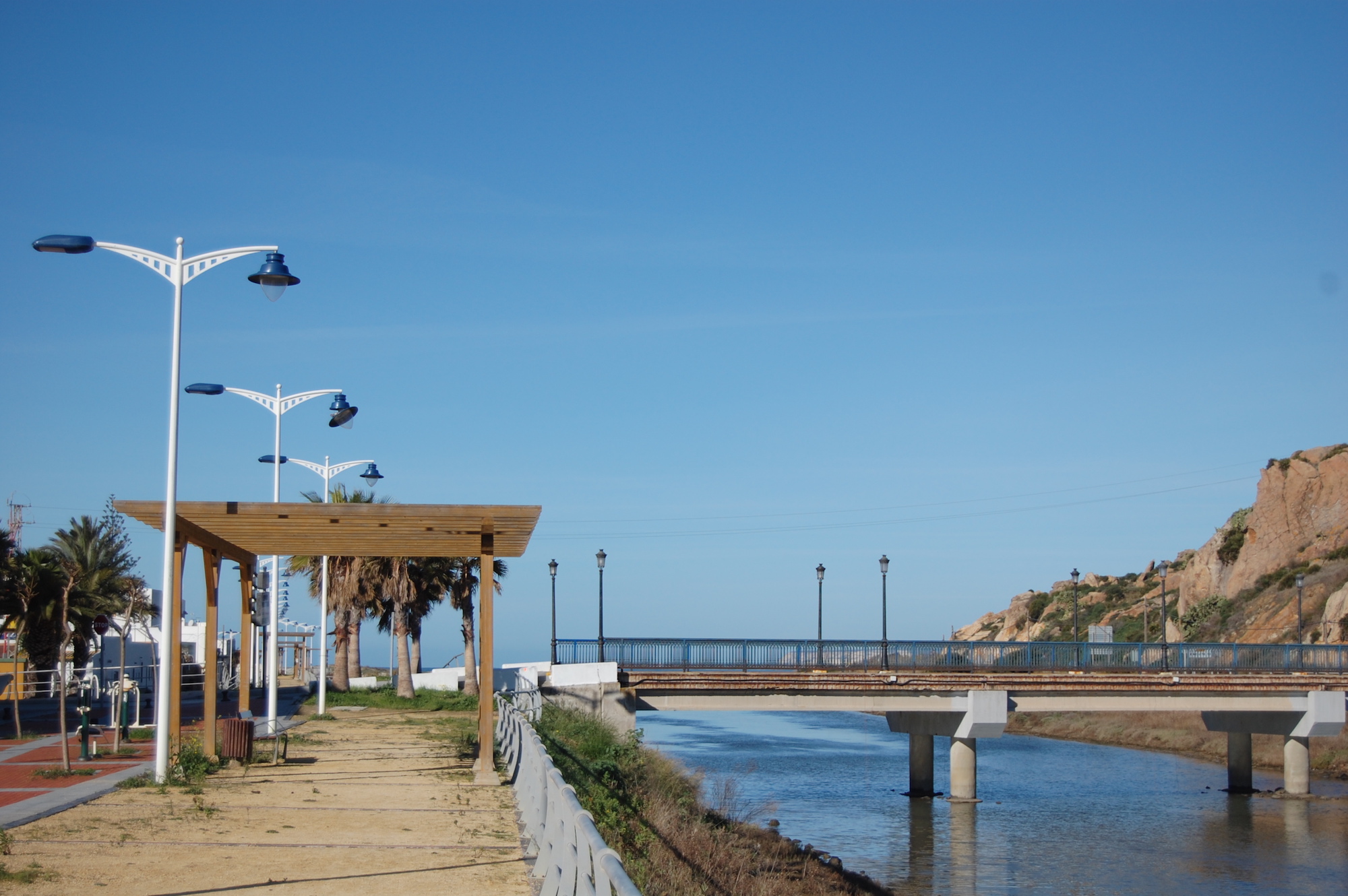 The cute white fishing village of Zahara, one of the Big Four almadraba towns in Cadiz licensed to catch tuna by Phoenician trapnets.
Bring a picnic or eat beachside at trendy Hotel El Varadero's wood-decked restaurant with ocean views.
If you've ever admired J.M.W. Turner's epic Battle of Trafalgar painting at Greenwich Martime Museum, this is where it all happened. Probably the most wind-tossed beach along the entire Costa de la Luz, it's a place to walk and wonder rather than swim and sun worship. Sea currents around the lighthouse are as hazardous as when Nelson and Napoleon had their wave-tossed set-to in 1805.
Wilderness Factor: Civilisation and safe family swimming beaches are just around the corner in Zahora, El Palmar and Caños de Meca.
Cafe-Bar las Dunas looks like an adobe mud hut given a makeover by Fred Flintstone but its cool stone interior and gorgeous garden make it a popular spot and summer nights are enlivened by live indie bands.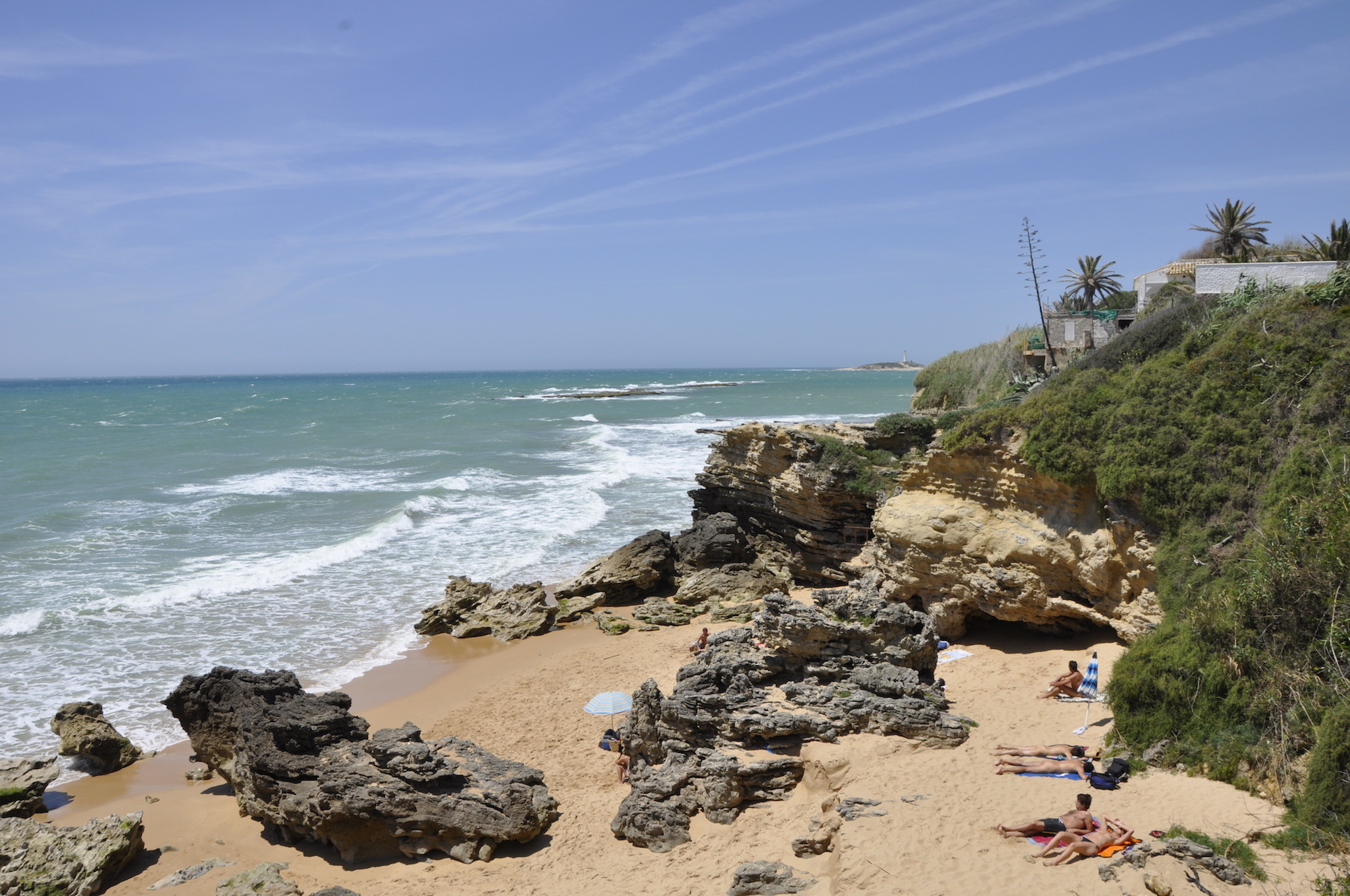 At Los Castillejos nudist beach in Caños de Meca. The hippy village is named for its jacuzzi cliffs which spurt spring water and produce a natural exfoliating mineral scrub.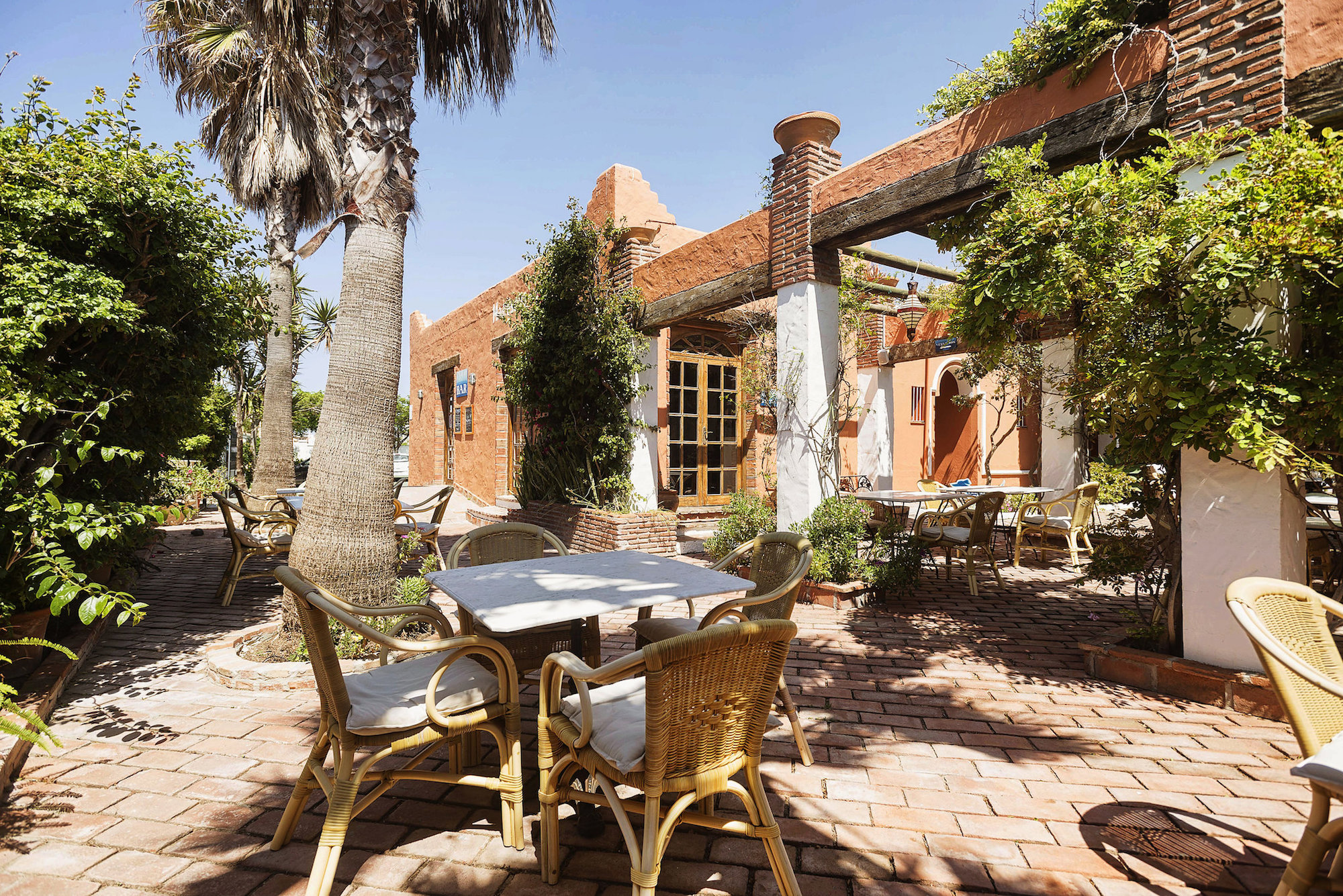 The Madreselva boutique hotel hits the spot for relaxed ambience and location and it's part of the Califa Vejer hotel group, so you should be able to count on great service.
Punta del Boquerón is a National Monument as well as a spectacular sandbar, wedged between the Atlantic and the salt flats of the Bay of Cadiz Natural Park. At the tip, you can photograph Sancti Petri Island's castle lighthouse from a Caribbean-copy beach. The shoreline walk weaves past wetlands and curious WW2 bunkers or you can get to it over water. Catch a cruise or paddle your own kayak from fascinating Sancti Petri on the Chiclana mainland.
Wilderness Factor: The sandbar starts from civilised San Fernando, brimming with boardwalk cafes and mod cons, getting wilder with every sandy footprint you leave behind.
The ghost almadraba tuna fishing village of Sancti Petri Poblado. It ceased to exist in 1973 but has been reborn with a sleek new leisure port.
The Coral Playa Hotel in Chiclana is poised between Sancti Petri and Barrosa beach where Halle Berry arose from the sea in an orange bikini for the Bond movie, Die another Day.
There could be an Iberian lynx watching you from the stone pine forests fringing the beaches of Doñana National Park, a 25km sandy strip that offers total escape from the mass sun-worshipping world. Book-ended by the frenetic summer resorts of Mazagón and Matalascañas, you can walk along most of it to find beaches you'll only share with the local lizards and spur-thighed tortoises.
Wilderness Factor: Totally wild. But there's a price for paradise. Beach roads are signposted off the A-494, then it's a 20 minute hike from the car park, although some boardwalks and steps down the cliffs are provided. Walk along the beach to discover ...
If Mars had a sea, the landscape might resemble the 15,000-year-old fossil dune system undulating along Donana's beaches. To reach this 15,000-year-old Natural Monument, turn off the A-494 at km39 towards Cuesta Maneli.
Built to ward off pirates (not parrots but maybe the pirates owned some), the tower straddles the borders of four towns, allowing Palos de la Frontera, Moguer, Lucena del Puerto and Almonte to claim it as their own.
The Parador de Mazagon occupies a pine-shaded position of privilege overlooking the splendour of Donana. The hotel has it's own beach access ... if you can drag yourself away from the luscious pool and gardens.
The Rompido Arrow
La Flecha del Rompido is often called one of the Seven Wonders of Huelva and like Cupid's this sensational 13-kilometre sandbar is love at first sight. Joined to the mainland between Cartaya and Lepe, La Flecha adds 30 metres to its length every year, shifting its shape like its sand-dune dwelling chameleons change colour. Aside from the jaw-dropping beauty of its Natural Marshland setting, you can swim in the River Piedras on one side and the Atlantic on the other.
Wilderness Factor: Totally wild. But FlechaMar runs a regular ferry service from El Rompido to this virgin wilderness, a 10-15-minute trip, so a chilled mojito is not that far away.
Flechamar offers tapas cruises - a chance to sample local hams, cheeses, Lepe strawberries and D.O. Condada de Huelva wine.
Encircled by broccoli-shaped pines, Hotel Nuevo Portil Golf lords it over all for location with its own golf course, a beach on the doorstep and a stylish colonial feel.
When to Go
For years the Costa de la Luz was a Spanish summer season secret but it's becoming more than a three-month wonder. Gigs like the Cadiz Tuna Festivals in May/June are keeping Costa de la Luz hotels open for longer - a perfect time to escape the crowds and bag bargain shoulder-season rates.
It's great out of season too, when you get the beaches all to yourself. We took this picture of El Palmar's peachy playa in November.
With thanks to Cadiz Turismo & Turismo Huelva for the additional photography