Gourmet Sotogrande
What's cooking in the home of surf and turf
Where beefy Argentinean polo players go, succulent Argentinean rib eye is sure to follow but you can have your steak and eat it in Sotogrande.
With the Atlantic Ocean on the doorstep providing a cornucopia of fresh fish and seafood, the posh polo resort is becoming known as Spain's home of 'surf and turf'.
A Who's Who of high society descends to wine and dine against the backdrop of Santa Maria Polo Club's summer International Tournament in August so the gastronomy's got to be good! Dine on the hoof in a white village, eat quayside with the super-yacht set, feast beside a fairway, at a swanky beach club or at the edge of a freshly-mowed polo field – there are over 40 restaurants to choose from, which is pretty much a record for an 'urbanisation'.
Sotogrande is not a town or even a village. It's a private resort in the municipality of San Roque. But Scottish Founder Joseph McMicking would be delighted to see the old place maturing "like a good Camembert", just as he forecast when he bought five fincas to create the ultimate family sports resort in 1962.
Back then, when there were no restaurants, summer residents partied at their palatial Sotogrande villas and the Camembert was served with port and Carr's water biscuits by a butler. Today you can enjoy it deep-fried in filo pastry from a tapas bar stool.
And who knows, the Duchess of York and her daughters could be sitting at the next table...
NAUTICAL NOSH
For a Little-Venice-in-the-Med vibe, chart your satnav for Sotogrande's multi-coloured marina and drop anchor for a culinary voyage. Sleek yachts bob along a promenade lined with a regatta of chic restaurants where you can sit under white shade sails and do dinner, lunch, brunch or full English breakfast.
Cerveceria Mara is your Galician oyster for fruits of the sea including tataki tuna, fish stews, rice dishes and every kind of shellfish. The mussel casserole – served five ways with traditional Belgian fries – is one of the signature dishes at Mytilus, also noted for its wild game, Châteaubriand and Belgian specialities.
For a pub atmosphere with big screen TV sport and a mind-bendingly long tapas menu, head for the Hairy Lemon, set back from the waterfront in a garden square. Everyone ends up at Ké, the port's social hub with prime marina views, a trendy fusion menu and its own glossy magazine. Catch up on the gossip over your wagyu steak teriyaki.
Firday nights at La Quinta have a sexy Latino flavour
Don't miss the the Mercado de Levante, the traditional hippy market which sets up along the quayside under candy-striped canopies every Wednesday and Thursday evening through July and August from 8pm-midnight, and year-round on Sundays from 10am-2pm.
Sotogrande Port parties until late in July and August
With a Kids Play Zone in full swing just around the corner - Jugarnia, open 4-8pm Monday to Friday and 11am-9pm on Saturdays and Sundays - the whole extended family can enjoy a relaxed summer's evening.
COURSES with horses
Tuck into prime Argentinean cuts beside the manicured green turf at Ayala Polo Club. Ensconced in woodland near the village of San Enrique de Guadiaro, Asador Cancha II is high on ambience with a vaulted wood-beamed ceiling and wrap-around terrace and reputedly serves the best char-grilled steak outside Argentina.
Cancha II is reputed for its Argentinean steak
Set up by Paola Zobel, daughter of the club's millionaire owner, this is where the local glitterati come to wine, dine and party until the wee small hours. The garden chill terrace with outdoor bar and cool music makes a magical setting.
Dine beside the pitch under white-tented pergolas
A further opportunity to mingle with the horsey set comes throughout August with the pop-up tented village at Santa Maria Polo Club, where you can dine beside the polo fields (with live music) and drink cocktails beneath white tented pergolas until la madrugada (the wee small hours).
BEACH CLUBBING IT
When the surf's up and the sun's out there's no finer place to dine than right on the ocean and Sotogrande's original beach club, opened by Frank Sinatra, is not showing her age.
The old Cucurucho has been reinvented as Trocadero, an out-of-Africa experience. Chill out on sunbathing lawns as smooth as a billiard table beneath thatched sunbrellas emulating Zulu warrior huts. The cocktail bar is modelled on a traditional African boma stockade with ceiling fans and safari prints. The menu showcases regional specialities including locally-caught blue fin tuna.
Zen out on cocktails in a zulu hut
Chambao's enticing white-curtained Balinese beds pop up on Torreguadiaro beach, east of Sotogrande Marina, in early summer. Lay back while a DJ spins cool sounds into the late afternoon, upping the tempo as the sun dips below the horizon – the perfect spot for a barefoot boogie. The all-day bill of fare includes seafood, sushi, burgers, grilled meat and fish and main course salads.
Chambao offers day-into-night dining
The country club at Cabell Robinson's 18-hole La Reserva course is not exclusively for hungry golfers. L'Olive restaurant is popular for Sunday roasts and family brunches and is setting the benchmark for fine golf course dining.
La Reserva's Restaurant L'Olive is not just for hungry golfers
Authentic Andalusian dishes with a modern European twist are served in the stylish bar/restaurant space with its inviting terrace and fab decor. Meat and fish dishes are cooked in high-speed Josper ovens which lock in juices and flavour.
HERITAGE DINING
Restaurant La Cabaña brings history back to life in the beautiful old farmhouse where the Sotogrande story began.
Founding father Joseph McMicking lived at Cortijo Valderrama in the 1960s, while he was planning the resort. You can picture him poring over his charts beside the fireplace in the dining room and enjoying his beautiful terrace and gardens. Now everyone can enjoy the setting that inspired the millionaire Scotsman along with a hearty menu of Andalusian grilled meat and fish dishes.
The Sotogrande story started here
Sotogrande's satellite Spanish villages add yet another twist to the eclectic dining scene.
Torreguadiaro has blossomed into a gastro paradise. The long, straight road through town follows the route of the Via Augusta which once ran from Cádiz to Rome. The Emperor wouldn't recognise this restaurant strip today and with most restaurants tuning into the tapas craze, its a great place to dine on the hoof – the very thing in the home of polo!
Pura Tapa's goat cheese parcels are udderly delicious
A trio of gastro bars sit cheek by jowl on the pavement so you can play musical chairs and try them all. Pura Tapa, sleek and minimal, chalks up its mouth-watering options in rainbow colours on a blackboard inside (tuna ceviche, deep-fried goats cheese in filo).
In Boca's truffle ravioli
At Inboca, rustic and retro, you get a menu (ajo blanco, truffle-filled ravioli, gooey chocolate brownie). Adjacent Cancha Tapas introduces diners to bite-sized versions of their heartier menu at Cancha II. From here, a stroll along the beach boardwalk linking Torreguadiaro to Sotogrande Marina is the perfect finale to lunch.
Over the river in Guadiaro village you'll find Si Siam's unexpected secret garden hiding behind unpromising-looking walls. Overlooked by a contemplative Buddha, this charming urban oasis serves up fragrant Thai cuisine and tranquility.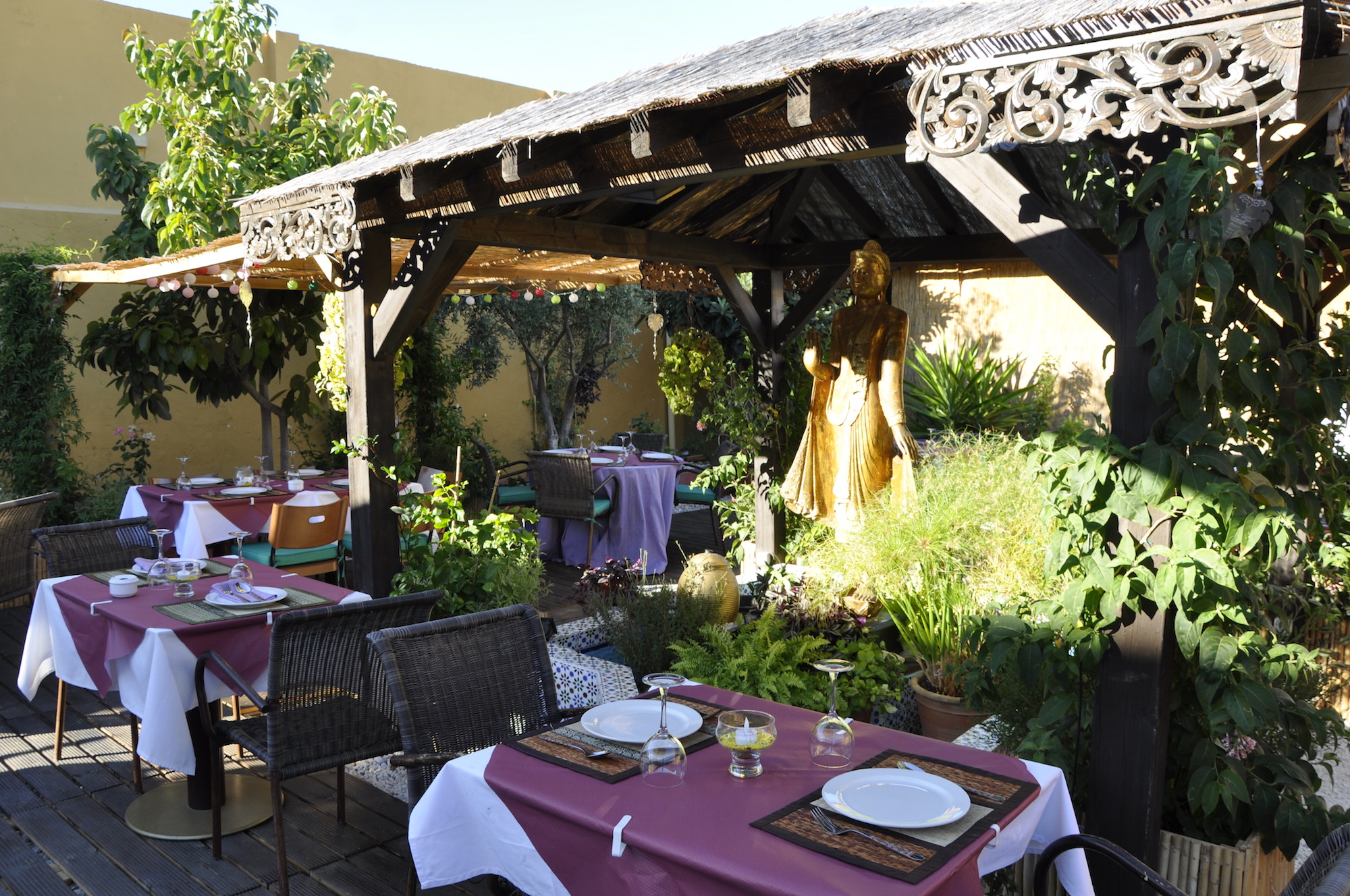 Si Siam serves up Thai tranquility
La Terraza de Teo doesn't look much from the outside (and the terrace itself is no bigger than a driveway), but the need to book testifies to the quality of the food (and if not, I will- Ed).
Inside, half the tables are laid with cloths for à la carte dining, the rest are dressed more casually for tapas. Created with invention and offbeat flavour pairings, the tangy Parmesan-sprinkled cherry gazpacho and the melt-in-the-mouth mi-cuit duck liver with caramelised banana, strawberry and kiwi are outstanding.
La Terraza de Teo's cherry gazpacho
GOURMET GALLERY
Galerias Paniagua was the birthplace of Sotogrande's fine dining scene and two of the original restaurants in this pretty commercial centre, where you can also buy British newspapers and English books, are still doing a roaring trade.
El Gaucho was the first, opened in 1985.
Popular with the polo set
Although many famous guests have dined here over the years, it has never strayed from its original intention to offer 'the uncomplicated and simple luxury of a great meal' – the way the Sotogrande set likes it. That includes char-grilled Argentinean steak, the way hungry polo players like it. Dine in the courtyard beneath a bower of bougainvillea or indoors in the cosy bodega with a real fire in winter.
A charming little Italian place
Lombardo's is nearly as old (1989) and this charming little Italian place has now passed from parents Enzo and Sara Lombardo to son Stefano. Choose from 50 dishes, they do everything from carpaccio and langoustines to linguini, pizza and Italian wines.