Quick Guide to Chefchaouen
A whirlwind tour of the Rif mountain town painted 50 shades of blue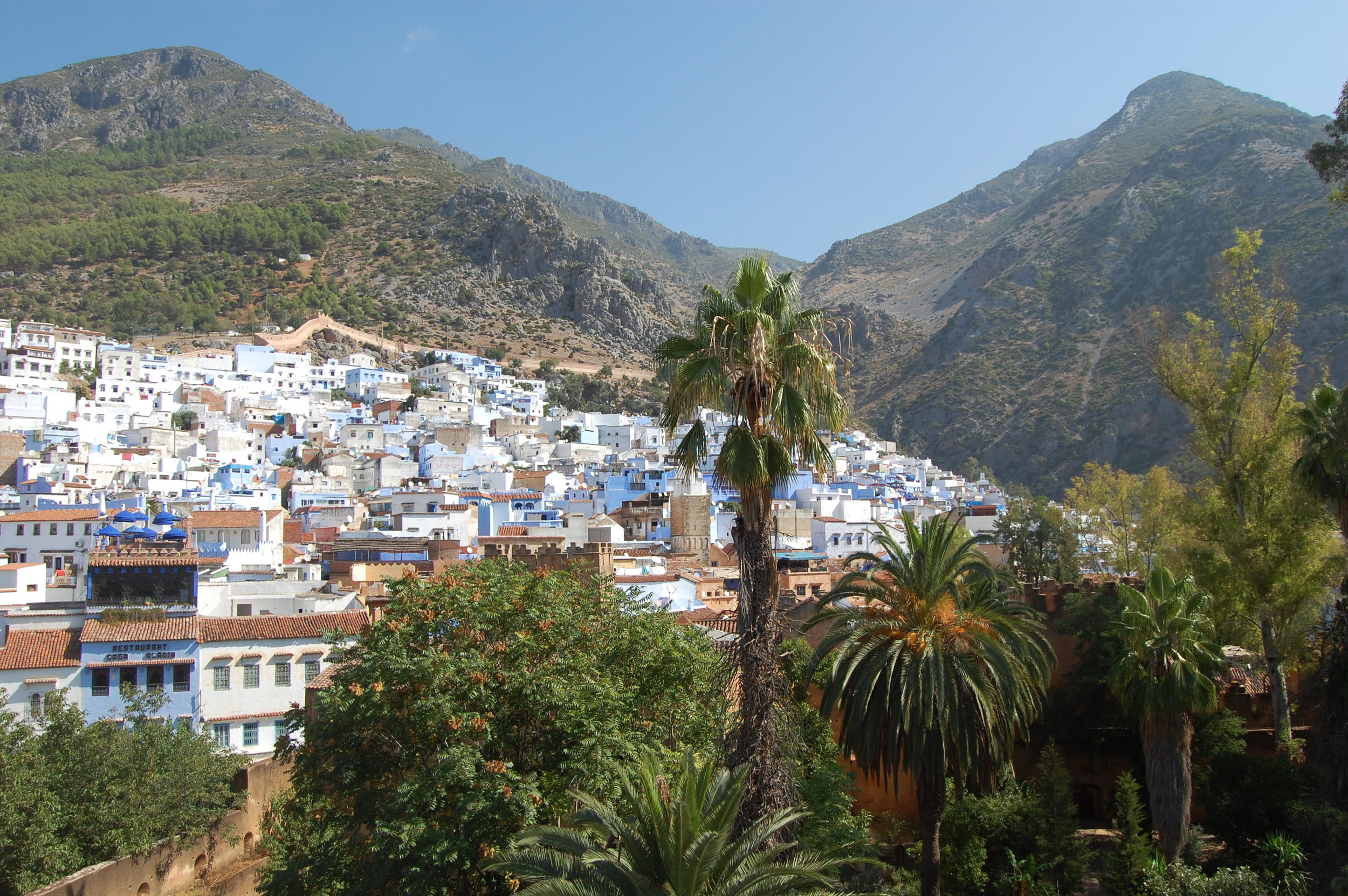 If you hate heat and hustle, Chefchaouen will banish those blues – regardless of the colour of the paintwork.
Viewed from afar, it could be any Spanish mountain pueblo although the battlements snake up the mountainside like a miniature great wall of China.
Chaouen (for short) was modelled on the Andalusian village of Vejer by a 15th century Emir to cheer up his homesick Spanish wife. They were among thousands of Moslems and Jews expelled from Iberia after the Reconquista who found sanctuary here. Now the Spanish love it too. The locals speak their language and the setting is a breath of pure fresh air infused with a whiff of kiff).
10 things to do in Chefchaouen
EXPLORE Chefchaouen Medina
The dinky historic quarter is Chaouen's star attraction and impossible to get lost in. Every alleyway in this blue-tinted theatre of life brings you safely back to the main plaza along passageways filled with the aroma of bread baking in communal ovens. Dive into its snakes-and-ladders streets and let them take you where fate throws the dice!
Best buys: everything artisan – including silver jewellery, kaftans embroidered with cactus silk and hooded Berber djellabas to wear back home.
2. CHILL OUT AT CHEFCHAOUEN KASBAH
Cafe society converges around the kasba walls at Plaza Outa-el-Hammam, a people-watching square set under the spreading branches of a magnificent fir tree. Shoot off in one direction to the medina, another to the new town, or amble a few paces across the plaza to the kasbah. The mud-coloured fortress walls hide lush tropical gardens, dungeons and an exhibition of miniscule marriage palanquins made for diminutive royal brides.
3. DIVE INTO THE Beautiful Launderette
Riffian women still do their laundry the traditional way in the Ras el Maa waterfall, using the rocks as washboards and the trees as clothes lines. Walk through the medina to its far end to reach this unexpected mountain spring cascading from the rocks. The setting's divine but it's hard labour. The water is icy in winter while, in summer, the Riffian washerwomen are plagued by ruffian kids diving into the river from the bridge above.
4. SHOP AT A LIVING MARKET
The Monday and Thursday market in the new town is an eye opener, complete with braying donkeys, bleating goats and squawking chickens. Not to put too fine a point on it, no shop-bought poultry comes fresher... Stalls are stacked with a cornucopia of goat cheeses, fruits, olives and jars of fragrant mountain honey.
5. MEET THE Cats of chaouen
Feral pussies galore pose in picturesque doorways for their Instagram moment of fame. "There are no rats or snakes in town thanks to the cats," our guide told us. No dogs? "They're with the goatherds in the hills, protecting the flock from wolves." Who knew!
6. listen to the Mosques
There are nine: six for men, three for women. The Grand Mosque's octagonal minaret was inspired by Sevilla's Torre de Oro, while the ruined Spanish mosque on the hillside is a great country walk. The plaintive chant of multiple muezzins calling the locals to prayer echoes through the valley five times a day. For us infidels, the 1pm call was our dinner gong, summoning us to lunch!
7. see ChEFCHAOUen's Got Talent
Although the hustle is less intense, even in Chaouen you are rarely alone. Wherever you set foot, half a dozen café owners will scurry out from under their awnings to entice you in. And wherever you sit, you'll be serenaded by wandering minstrels hoping for a tip. The headline act during our visit was a duet of grandads we dubbed the Cheech and Chong of Chefchaouen. One scrapes a violin, the other bashes a tambourine. Both sing, of sorts, though Simon Cowell would see no X Factor.
8. watch out for White Magic
Before the Moors introduced the Islamic faith in the 15th century, the locals practised white magic and we became convinced that some of the local guides still do. Although we never officially hired him, Mostafa materialised from doorways at all the right moments to share an interesting titbit, evaporating like mist while we lunched and reappearing on cue as we finished to continue our fascinating tour. Everyone needs a Mostafa! As we were going home, he appeared once more and we gave him 300 dirhams for his unsolicited services. He wouldn't quote a price. "Whatever you can afford, I am a simple man," he said. "See you next time", we called out, but he'd vanished – like white magic!
10. note the Hash Tag
The Rif is known as Morocco's 'capital of kif' (slang for 'hashish', Arabic for 'bliss') and Chaouen whiffs of it. Crops are grown covertly in the hills, hiding between olive groves and melon plantations. The debate over whether to legalise cannabis production for medicine and textiles to help out poor farming communities is a pipe still being smoked. For now, there are stiff penalties for users as well as suppliers.
9. try Magic Pizza
On our third and last day we promised ourselves pizza and beer (criminal, but we couldn't face another tajine and mint tea). Ali Baba café in Plaza Outa-el-Hammam sold neither but it was 'no problema' for the determined waiter. Within 10 minutes he had conjured up two bottles of chilled Casablanca and a piping hot pizza Margarita. Not white magic but enterprise – he got them from his mate down the street!
Why is chefchaouen blue?
Sephardi Jewish settlers started the tradition, as they associate blue with the sky and divinity and believed it would bring people closer to God. Less romantically, it's also repels flies and mosquitoes and attracts tourists. Andalucia also has a famous blue village – Juzcar in the Ronda mountains. It was painted for a Smurf movie and attracts so many visitors for that one reason, it has never been repainted white.
God's Bridge at Akchour, an impressive natural archway in the rock eroded by the river, is one of many local beauty spots in this hikers' paradise, with trails weaving through natural parkland. The city of Tetouan, the wild northeast beaches of Oued Laou and the ritzy resort of Banyan Tree Tamouda Bay are just over an hour away.
Where to eat in Chefchaouen
You can get a good three-course menu from as little as Dh95 (€20). But there's definitely a gap in the market for a Moroccan Ferrán Adría to shake up the somewhat repetitive foodie scene, especially as going out to dinner is the only nightlife.
Riad Casa Hassan
This riad hotel's Tissemlal restaurant is justifiably rated one of the best in town for its harira soup (a spicy minestrone), beef and vegetable tajine and salty-sweet pastilla, a chicken pie with knobs on.
CASA ALADIN
The rooftop views make it worth puffing up six flights of stairs to eat at the top of Casa Aladin. Pity the poor waiters who make the same journey from the ground floor kitchen on the run, weighed down with dishes! Well, they do call it haute cuisine …
molin d'arte
Elegant umbrella-shaded tables with privacy curtains overlook Chaouen's beautiful alfresco launderette at this bijou garden restaurant on the edge of town. And their goat gratiné makes a refreshing change from tajine, Allah be praised!
chefchaouen weather
Chefchaouen's climate is temperate. Summer temperatures hover around 30C, and rarely dip below 10C in winter. November to March are the months with most chance of rain. Choose shoulder seasons if you like peace and quiet, Easter, Christmas and peak summer months if you like people and temperature extremes.
chefchaouen hotels
You need to spend at least one night in Chefchaouen and there are over 200 riads to choose from. Here's a taster:
The Lina Ryad Morocan ethnicity meets Marbella chic at this swish spa hotel. Lovingly restored from three ruined buildings by Amine Lahlou, there are 17 sumptuous suites, a heated indoor pool and hammam and a chill-out roof terrace. The guest list has included US senators and diplomats but all-comers are treated like special house guests; which indeed they are, as Amine and his family live under the same roof.
Riad Casa Hassan just off the main square is a spotlessly-clean traditional riad with a light-filled courtyard, hand-painted ceilings and a roof terrace with cushions and lanterns oozing Eastern Promise. Our room (No. 23 – they're all different) featured an alcove bed and a small Arabesque window hidden by vine leaves that became our spy-hole onto the medina.
The Parador is one of the few hotels in Chefchaouen with a licensed bar and a pool. It's not a Parador by the chain's Spanish standards of design and luxury but the views are cinematic.
how to get to chefchaouen
The Easiest Way:
Book a package. FRS offers a 3-day/2-night getaway from €230 including return ferry, hotel with b&b and transfers. www.frs.es
DIY
Tarifa to Tangier Ville by fast FRS ferry, taxi from the port to Chefchaouen*. Ask your driver to show you the official price tariff (600 dirham in 2015).
*The two-hour drive is one continuous photo stream featuring streetwise mules, shepherds herding sheep and Berber women in red-and-white-striped fouta overskirts and bobble hats selling fruit and veg by the roadside. There are various options involving buses and trains but we like our comfort!
you might also like …